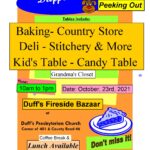 Duffs Fireside Bazaar, October 23rd, 2021
Time 10a.m – 1 p.m.
Theme Peeking Out
Sales Tables include; Baking, Deli, Country Store, Sewing & Crafts, Candy Table, Kid's Table and Grandma's Closet.
A Take-Out Lunch Available – soup, sandwiches and pie
A Silent Bid on 2 Vintage Top Quilts
A Lot of Items are For Sale On Line from October 4 – October 19, check out Our Face Book Page
PLANNED LAY OUT FOR BAZAAR
Guests will come in the front door of the Church – someone will take their name and a contact number
Masks must be worn inside the building. Hand sanitizer will be available at the front door and a couple other places as well.
Guests will then go through the Welcome Room where there will be a bake table, a candy table and the Sunday School table. Everything will be covered.
The guests will move up the ramp to Nanson Hall were someone will direct them to the different tables to keep the guests flowing. In Nanson Hall there will be a Deli table, a Sewing and Craft table, the Country Produce table, the Quilt Bid table and across the back a Take-Out Lunch table.
Everyone will go out the back door.
Grandma's Closet will be in a Tent Outside on the Parking Lot
The pick-up for items sold on line will be from the back door before the Bazaar opens to the public. 9:15 – 9:45
There will be no food eaten inside the building
Members are encouraged to donate items for any of the tables, these must be brought to the Hall the night before.
Bazaar Committee Glenna Smith, Marion Hunter, Florence Peer