Dynamic Unique Fellowship Faithful Service
 HISTORY
DUFF'S PRESBYTERIAN CHURCH, 150 YEARS OF WORSHIP AND SERVICE
"One generation shall praise Thy works to another and shall declare Thy mighty acts."  Psalm 145:4 KJV
Duff's Presbyterian Church with horse sheds in the churchyard left.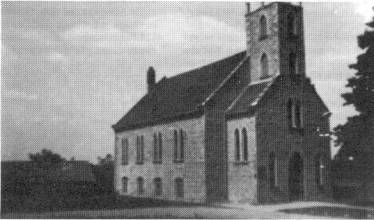 In 1987 Duff's Presbyterian Church is celebrating the one hundred and fiftieth anniversary of its establishment.  For this joyous occasion special events are being arranged.  Thought and planning commenced several years ago and now preparation is well underway.  An anniversary service will be held on Sunday, July 19th, a service of reunion and remembrance on Monday, July 20th, a garden party on Friday, July 24th an old tyme service on Sunday, July 26th and the Women's Missionary Society observance  on Wednesday, October 14th.
It has been a hundred and fifty years of challenge and progress.  The way has, at times, been difficult and obstacle-strewn, but all through the generations dedicated workers have pressed onward.
Christianity in Puslinch Township dates from the arrival of the earliest settlers who immigrated primarily from Scotland, Ireland, England and Germany between 1827-31.  The first religious services were conducted in homes or barns or in the open by elders or any minister who might be persuaded to visit the area.  Thomas Wardrope, a school teacher from Ladykirk, Berwickshire, Scotland and a licentiate of the Church of Scotland, who settled on lot 35, front of concession 9 in 1834, was prominent among these men.
On December 29, 1835, a meeting was held at the home of Peter MacBeath to consider action on lot 28, front concession 8.  The Crown Lands Department had granted this property to the Presbyterians of Puslinch who had petitioned for it.  It was to be used for the establishment of public worship and as a cemetery.  A committee was appointed under the chairmanship of Peter McNaughton.  However, the work did not begin immediately.  It required several more meetings over almost two years before a log church was built just inside where the present Crown Cemetery gates are.  In 1840 it was enlarged to twice its original size.
In 1839 the congregation first celebrated the Lord's Supper, established a communion roll of eighty-one names, and ordained one elder and inducted another to form a session consisting of Peter McNaughton and Archibald Watson.
James Gordon, living in the lower end of Badenoch, was acquainted with a divinity student, William Meldrum of Morayshire, Scotland.  When Rev. Meldrum completed college, James Gordon recommended him and, with the assistance of the Rev. John Bayne of Galt, Peter McNaughton and Neil McPhatter sent him a petition requesting him to be their minister.  The Reverend Meldrum came to Puslinch in November 1839 and was inducted on March 11, 1840.  He lived with Peter and Margaret McLean of Badenoch  and, on Christmas Day 1845, married their youngest daughter, Ann.
During this time congregations were forming in nearby communities as well, and in December 1839, after the arrival of but before the induction of Rev. Meldrum, a deputation from Nassagaweya sought his services.  It was agreed that they would share Rev. Meldrum's services for one year.  In February 1840 Presbyterians from the west of Puslinch and the north of Beverly agreed to pay a third part of the stipend for the services of Rev. Meldrum at lot 15, concession 1, every third Sunday.  So it was that Duff's began its life sharing a minister with two other congregations.
And still all did not run smoothly.  During Rev. Meldum's ministry of fourteen years a serious disagreement arose within the Presbyterian Church, and in 1844 a faction, including the Puslinch congregation, withdrew from the Church of Scotland and called itself "Free Presbyterian".  In doing so the congregation relinquished its right to the church property, which was however, left in its undisputed possession for some years.  Then, an organization of the established church led by Rev. Dr. Hogg of St. Andrew's Church, Guelph, laid claim to the church and grounds and the Puslinch congregation was forced to leave its church and build anew.  The Presbyterian Church did not re-unite until 1875.
  The question of a church site central to the area of concentration of Presbyterians in the township was discussed.  However, the advisability of dividing into two separate congregations became apparent, because the distance to be covered was too great.  Thus, East Puslinch (Duff's) and West Puslinch (Knox in Crieff) were established.  In 1890 they agreed once again to share the services of a minister.
The East Puslinch group purchased an acre of land from John Haist, just across the Brock Road from the first church.  John Marshall and R. B. Morison were appointed to see the Christie Church near Dundas, with the result that the present stone church, similar in plan to the Christie Church, was erected.  It opened for worship in 1854.
In that year the Rev. Dr. Alexander Duff, a pioneer missionary of the Free Church of Scotland  to Calcutta, India, visited this country.  At a congregational meeting held in 1857 it was unanimously agreed that this place of worship be named "Duff's Church" in honour of the man so full of missionary zeal.   In 1835 the congregation began with one hundred acres of uncleared bush.  Through determined faith and perseverance, they had constructed a large stone church by 1854.
Up to this time precedence had always been given to the Gaelic language with a service in English following.  However, the relative importance of the two languages had changed greatly by about 1854 and the majority favoured a reversal of the order.
The congregation purchased thirty  acres, on which were log buildings, for use as a manse.  At a congregational meeting held on February 19, 1868, it was decided to erect a new manse.  This is the first stone house north of the church on the west side of old highway 6.
Not all difficulties encountered arose from external sources.  In 1892 a feeling in favour of introducing an organ to the worship service surfaced, causing quite a controversy.  Although there was the further complication of lack of funds, an organ was purchased in 1897.
The Sunday school was organized in 1893 with William Stratton as superintendent.  Previous to this, Sunday school had been held on the 10th concession (from the early 1850's), 3rd concession (from 1857) and in Badenoch (from the early 1840's).
In July 1899 Duff's celebrated its diamond jubilee (60 years).  There were special services of worship.  A lawn social and a concert were held.  A history book, comprised of the history of Duff's and Knox Church, Crieff, entitled "Presbyterianism in Puslinch", was published.
During the summer and fall of 1903 the church was greatly renovated.  The galleries were taken out, the walls were raised about three feet, a truss roof was put on, a basement dug, the masonry tower constructed, stained glass windows were installed, oak ends were placed on the pews and acetylene gas lighting installed.  All this was done at a cost of a little over five thousand dollars.  On January 3, 1904, re-opening services were conducted.
In 1907 Gaelic serviced were discontinued since the number of Gaelic speakers remaining was few.
 In 1911 the manse barn was struck by lightening, burned and had to be replaced.  In 1919 this property was sold and the present manse in Morriston was purchased from the Morlock family.
In 1925 the Presbyterian Church voted on the issue of union with the Methodists and Congregationalists to form the United Church.  The majority was opposed, but the minister, Rev. Stuart Woods, the clerk of session and one-sixth (thirteen) of the members left Duff's for the United Church.  Undaunted, the congregation began the search for a new minister.  After five months, the Rev. Peter Mathieson was inducted and he became much loved and respected in the community.
Duff's Church celebrated its one hundredth anniversary on July 18-25, 1937, with special services, a garden party and another history book called "History of Duff's Presbyterian Church, Puslinch, Ontario 1837-1937".
In 1965 a Christian education building was added to the south-west corner and the basement was divided into rooms.  On January 16, 1966, a cornerstone-laying ceremony was held.  The addition was later named Nanson Hall in memory of Rev. L. H. Nanson.
In June 1975 a homecoming celebration was held to observe the centennial of the union of all Canadian Presbyterian Churches into the Presbyterian Church in Canada.  Over four hundred people attended services, a dinner, concert and memento display.
This year is Duff's one hundred and fiftieth anniversary.  Duff's is again telling its story; a new book is being produced.  A history of the past fifty years is being combined with a reprint of the book published in 1937.
The way has seldom been easy but always there have been those, steadfast in faith and willing in service, who have carried on the work.  God willing, such virtues never fail.  Join us in celebration.
"Thy kingdom is an everlasting kingdom and Thy dominion endureth throughout all generations."  Psalm 145:13 KJV
 Marjorie Clark
  May 1987