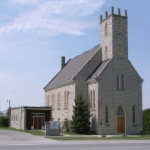 We welcome you and hope to be able to introduce to you, our new minister: Rev. Jane Swatridge!
At Duff's :  Services from September 2016 through to the end of June 2017 begin at:        10:30 am:                                               **ALL are most welcome to Duff's Church by the 401**                              For  'August Services & Sun. Sept. 3rd , Summer Hours are 10 am'       We will worship in Nanson Hall i(in air conditioning comfort) sitting at tables  & enjoying refreshments.                                                       
                                            "Proud Past, Promising Future!"                                                                                                      D.U.F.F.S.
                                                                   Dynamic
                                                                     Unique 
                                                                 Fellowship
                                                                    Faithful 
                                                                     Service
          Come and experience the feeling of a warm,  friendly, unique,                                                              church Family.
Let yourself be drawn into and inspired by our minister's wonderful, thought-provoking and inspiring messages.
             Experience and enjoy our stimulating and informative                  children's program.
Praise and worship through song with the help of our talented pianist/organist and leader-Susan Brown & assistant- Rob White + the dedicated Choir and special musicians & singers who  add to our Musical Adventures.
Join us for our Coffee Hour after each worship service, giving us the added opportunity to meet you, and for you to meet us!
WORSHIP
Sunday Morning Worship USUALLY begins at 10:30 am on 2nd in September  through to the end of June, and we begin to gather at 9:30 am for 'Conversation & Coffee' if you wish, plus  musical rehearsals.  At 11:30 am, enjoy MORE Coffee, Conversation and COOKIES with everyone after the service.                                                                                               YOU are always welcome!

In August , we began services at 10 am with Rev. Jane Swatridge, Rob White at the piano and different guest vocalists or musicians each week. The services were all in air-conditioned Nanson Hall. We sat at tables & enjoyed refreshments throughout the services.
This Sunday Sept. 3 will be at 10 am in Nanson Hall AND.……..                         Sunday Sept. 10 will be at the Aberfoyle Fair grounds in a huge white tent to accommodate the people & guests of Puslinch & surrounding areas,  celebrating Canada's 150th Birthday!  Duff's, Morriston MCZU. & Arkell will be closed to encourage all to join in this festive occasion!! Enjoy Canadian style refreshments after the service.  ALL are most welcome!!