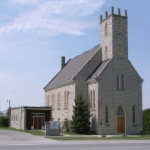 *ALL are most welcome to Duff's                    Church by the 401**                       "Proud Past, Promising Future!"                                                                                                      D.U.F.F.S.                                                            Dynamic                                                             Unique                                                                 Fellowship                                                                                                                                  Faithful                                                                                                                                        Service
Worship Service       10:30 am, coffee hour to follow.                              email: duffschurch@gmail.com, 519-763-1163
Summer Services  in August,  10 am.
Come and experience the feeling of a warm,  friendly, unique,                                                              church Family.
           Let yourself be drawn into and inspired by our minister's                         wonderful, thought-provoking and inspiring messages.                                     Experience and enjoy our stimulating and informative                                                        children's program.                                                                   Praise and worship through song with the help of our talented            pianist/organist and choir leader-Susan Brown,  plus the                        dedicated Choir and special musicians & singers who  add to our                                                 Musical Adventures.                                                                           Join us for our Coffee Hour after each worship service,                                         giving us the added opportunity to meet you,                   and for you to meet us!       
 Minister: Rev. Jane Swatridge:       519-763-1163
Administrator:  519-763-1163  email: duffschurch@gmail.com
Parish Nurse: Karen Harding –                                                                                                              Please leave a message: 519-829-3042                                                                                            Call or text: 519-820-8114                    
Treasurer: Bev Brown-  duffspresbyterianchurch@gmail.com
Caretaker: Jules Ganning   226-821-2002
Booking Agent:  Jules Ganning    duffschurchrental@gmail.com                                                                                                      OR call 226-821-2002